Welcome/Bienvenue
We are a French Catholic based Long-Term Care Facility, affiliated with Sask. Health Authority. Villa Pascal is a member of the Catholic Health Association of Saskatchewan and of Canada.
In partnership with others, we create and offer a safe, healthy and comfortable, home-like environment for residents, families, staff and volunteers.
In keeping with the teachings of the Catholic Church, our dedicated and caring team provides compassionate holistic care, with respect for the uniqueness of all people.
PRAYER FOR THE FIRST WORLD DAY FOR GRANDPARENTS AND THE ELDERLY
I thank You, Lord, for the comfort of Your presence: even in times of loneliness, You are my hope and my confidence,
You have been my rock and my fortress since my youth! I thank You for having given me a family and having blessed me with a long life.
I thank You for moments of joy and difficulty, for the dreams that have already come true in my life and for those that are still ahead of me.
I thank You for this time of renewed fruitfulness to which You call me.
Increase, O Lord, my faith, make me a channel of your peace, teach me to embrace those who suffer more than me, to never stop dreaming and tell of your wonders to new generations.
Protect and guide Pope Francis and the Church, that the light of the Gospel might reach the ends of the earth.
Send Your Spirit, O Lord, to renew the world, that the storm of the pandemic might be calmed, the poor consoled and wars ended.
Sustain me in weakness and help me to live life to the full in each moment that You give me, in the certainty that you are with me every day, even until the end of the age.
Amen.
Villa Pascal Visiting Hours
Unless otherwise scheduled visiting hours will be:
Tuesdays and Thursdays 1:00 pm - 4:00 pm
Wednesdays 4:00 pm - 8:00 pm
..................................................................................................
Starting December 4th, we are adding:
Saturdays 1:00 - 4:00 pm
Visitors must be vaccinated, or show proof of negative test.
2 visitors max at one time.
Please limit your visits to 1 hour.
Please do not park in the staff parking lot.
Visitor Rules at this time:
Each resident may have

2 adults or 1 adult and 1 child visiting

at one time.
Visitors

must

wear a mask at all times and pass the screening.

Upon arriving, visitors must go straight to the resident room. In order to limit contact, we ask that you do not visit with other residents or leave your loved one's room during the visit.

Visitors taking residents outdoors must use the East entrance.

Visitors may take residents across the street to the park for their visit.

Visitors are allowed to take residents on a leave of absence only if they can ensure that COVID precautions are followed as per government instructions.
Our expansion project
The Board of Directors, in partnership with the SHA have partnered to enhance the current Villa Pascal long term care facility.
We are a non-profit organization and depend on community support. The $2.5 million project continues to seek donations from the public for its fundraising campaign to raise $1 million.
Mid April, 2021 began the addition of four (4) private rooms, a family palliative suite, and inter-denominational chapel/multipurpose room, and upgraded entrance and welcome space to ensure that our residents and their families' physical, mental, spiritual and practical needs are met.
On September 25, Albert and Helene Blais provided a cheque for $10,000 towards the fundraising effort. The donation goes to naming rights of one private room in memory of Al's parents Evereste and Irene Blais, who were both residents here at one time.
Seen left to right, Board of Directors chair Claude Desnoyers, Helene and Albert Blais and Heather Beatch (Administrator).
Newly renovated kitchen - as of Sept.21, 2021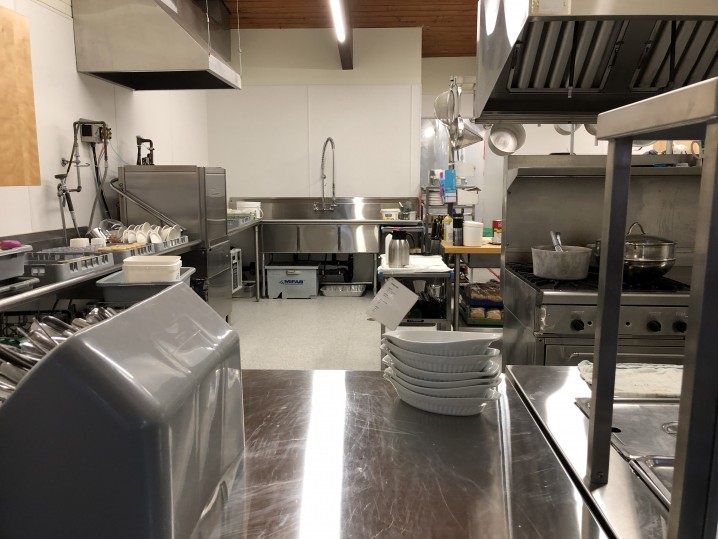 Front Entrance - as of November 12, 2021
Chapel Addition - as of November 12, 2021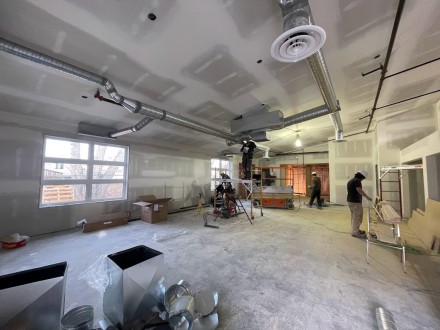 Palliative Room - as of November 12, 2021