About Villa Pascal
FAITH is our Foundation
The residents participate in the Rosary every morning.
Mass is said once a month by Fr. Nick. Virtual Masses are held every other Tuesday.
Bible study is held once a month by volunteers.
Christian memorial services are provided for every resident who passes.
VISION

Villa Pascal will provide holistic care to long term care residents, respecting the dignity and worth of all.
MISSION
Villa Pascal, a French Catholic based health facility, in partnership with others, creates and offers a healthy, safe, comfortable, home -like environment for residents, families, staff and volunteers. In keeping with the teachings of the Catholic Church, the dedicated and caring team provides compassionate, holistic care, respecting the uniqueness of all people.
VALUES
1) Respecting the dignity and worth of each person entrusted in our care and of each other.
2) Compassionate understanding care for all.
3) Team work - provide opportunity for a multi-discipline team; considering and respecting input from all members for a common goal;
Working together to create a respectful and positive environment.
4) Accountability: care of our entrusted resources with openness and honesty.
BOARD OF DIRECTORS
Claude Desnoyers – President
Michel Michaud – Vice-President
Albert Blais - Treasurer
Denise Schmidt
Leo Hamel
Angèle Vany
Yvonne Vany
Heather Beatch - Secretaire
LADIES AUXILARY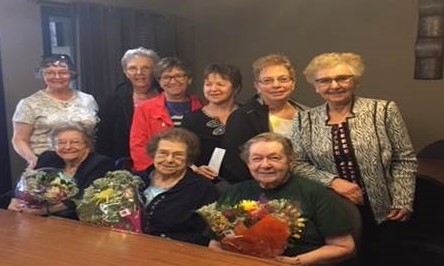 Villa Pascal Ladies Auxiliary was started in November 1990; a small number of ladies formed the auxiliary and went to work at fund raising to enhance life at Villa Pascal for the residents. Every month they worked a bingo – sometimes they were offered an extra bingo and they would take it. Some of these individuals were well into their senior years and still helped out.
Jeanne L'Heureux was the first president, then Therese Giasson took over as president with Jeanne L'Heureux as secretary. Leona Esquirol also took over as secretary-treasurer for many years. Ladies Auxiliary current members are: Bea Geering - President, Ali Raycraft - Secretary/Treasurer, Therese Michaud, Lois Seib, Irene Bohun and Iris Wog.
The Ladies Auxiliary have fund raised over $272,000 for our facility. Funds which have gone to enhance resident care; there are too many things to name. Some of the biggest contributions they have purchased are: renovating resident rooms, furniture for rooms and dayroom, carts, lifts, tracking, slings, mattresses of various types (regular and specialized), front and exit doors, replacement windows for the entire facility resident rooms, wandering system and bracelets, housekeeping scrubber, TV, blanket warmer, sheepskins, patio upgrade and furniture, glider chairs, recreation supplies, kitchen counters, oxygen concentrator and other medical equipment; tub, tub chairs, electric beds, BBQ and upgrading the enclosed backyard area. Although Bingo profits have decreased in the last few years the auxiliary continue to work monthly to raise funds - the most recent donation of $13,000.00 will go towards our building fund for current renovations. The auxiliary have also been involved in yearly bazaars – donations toward prizes and selling tickets. In the lean years of the late 90's and early 2000's there is absolutely no way our facility could have continued to enhance resident home life if the auxiliary were not there to help out.
These individuals go about their work, focused in their goal, no questions asked, in order to better the lives of others. It is with extreme and deep appreciation that we recognize these dedicated and caring individuals.