Welcome/Bienvenue
We are a French Catholic based Long-Term Care Facility, affiliated with Sask. Health Authority. Villa Pascal is a member of the Catholic Health Association of Saskatchewan and of Canada.
In partnership with others, we create and offer a safe, healthy and comfortable, home-like environment for residents, families, staff and volunteers.
In keeping with the teachings of the Catholic Church, our dedicated and caring team provides compassionate holistic care, with respect for the uniqueness of all people.
Villa Pascal Visiting Hours
Unless otherwise scheduled visiting hours will be:
Monday - No Visits

Tuesday - Friday:
Scheduled Times: 1:00pm, 2:00pm, 3:00pm, 4:00pm, 6:30pm

Saturday and Sunday:
Scheduled Times: 1:00pm, 2:00pm, 3:00pm, 4:00pm
Please phone 306-445-8465 - #2 (Recreation) to schedule a visit.
Please advise all family and friends to schedule a visit.
Visitor Rules at this time:
Each resident may have

2 adults or 2 children visitors

at one time.
Visitors

must

wear a mask at all times and pass the screening.

Upon arriving, visitors must go straight to the resident room. In order to limit contact, we ask that you do not visit with other residents or leave your loved one's room during the visit.

Visitors taking residents outdoors must use the East entrance.

Visitors may take residents across the street to the park for their visit.
Our expansion project
The Board of Directors, in partnership with the SHA have partnered to enhance the current Villa Pascal long term care facility.
Mid April, 2021 began the addition of four (4) private rooms, a family palliative suite, and inter-denominational chapel/multipurpose room, and upgraded entrance and welcome space to ensure that our residents and their families' physical, mental, spiritual and practical needs are met.
Newly renovated kitchen - as of Sept.21, 2021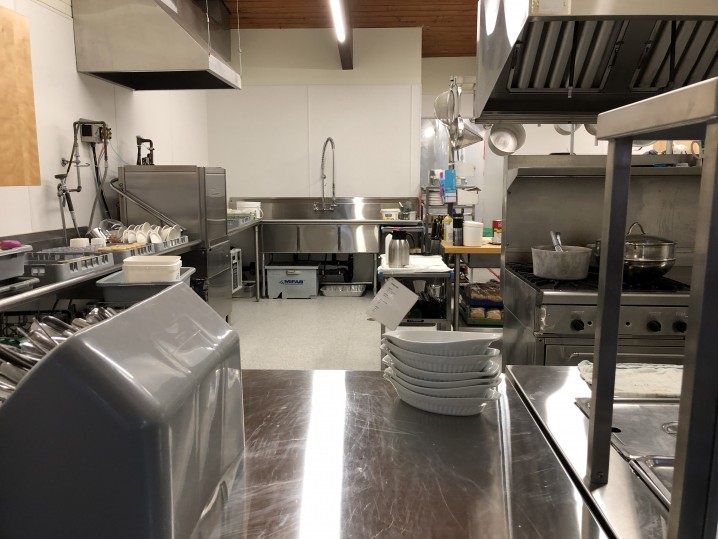 Front Entrance - as of August 12, 2021