Welcome/Bienvenue
We are a French Catholic based Long-Term Care Facility, affiliated with Sask. Health Authority. Villa Pascal is a member of the Catholic Health Association of Saskatchewan and of Canada.
In partnership with others, we create and offer a safe, healthy and comfortable, home-like environment for residents, families, staff and volunteers.
In keeping with the teachings of the Catholic Church, our dedicated and caring team provides compassionate holistic care, with respect for the uniqueness of all people.
Click this link to view "You're at Home Here" - Villa Pascal Lottery video
Visiting Hours: (Starting Monday May 16th)
*Please do not park in Staff Parking Lot*
Visiting times (in Resident rooms only):
Mondays……………….. 1:00-8:00 pm
Tuesdays………………. 1:00-8:00 pm
Wednesdays………….. 1:00-8:00 pm
Thursdays……………… 1:00-8:00 pm
Fridays………………….. 1:00-8:00 pm
Saturdays………………. 1:00-8:00 pm
Sundays…………………. 1:00-8:00 pm
Do not park in our Loading Zone.
Engines must be turned off while loading under the canopy.
In order to ensure a smooth transition from locked east staff door to the main entrance:
There is a loading zone under the covered front entrance. Vehicles will not be allowed to park there unless picking up or dropping off residents for appointments.

Engines must be turned off

while parked under the canopy.

Visitors are expected to park anywhere but the Employee parking lot.

All visitors must sign in and out in our guest register inside the front doors.

Nurses must be notified if any residents are taken out of the building.

Make sure you hand sanitize upon entry and before entering and after leaving the resident's rooms.

Masking is important as well, but can be removed once in the resident's room.

Do not share food or drink with the residents.
BAKE SALE TABLE A TREMENDOUS SUCCESS!
The Villa Pascal Recreation Staff would like to send a big THANK YOU! to all the Resident Families and Friends, Villa Pascal Staff and Dietary Department that Donated to our Bake Sale at the Lions Christmas Bazaar on Saturday, November 26th!
Thanks to all who came to purchase as well - the Sale was a tremendous success!
The Grand Total of funds for our Resident Activities was $1830.85!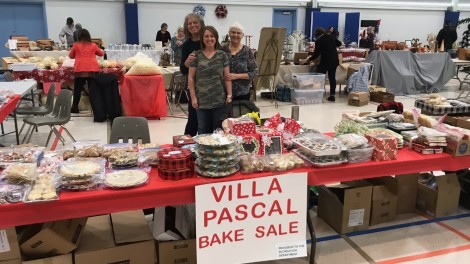 Resident Fall Activities:
Wine & Cheese - October 18, 2022
(Cheese and Cracker Trays kindly donated by Brenda Sansregret)


Halloween